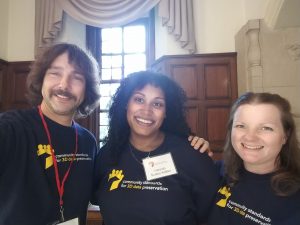 Jennifer Moore is the Head of Data Services in the University Libraries, and program faculty in International and Area Studies in the School of Arts & Sciences at Washington University in St. Louis. Moore leads a team that specializes in data management, curation, analysis and visualization. She is a co-PI on the IMLS-funded Community Standards for 3D Data Preservation project (LG-88-17-0171-17)  and is a partner on the IMLS funded project Building the Digital Curation Workforce: Advancing Specialized Data Curation (RE-85-18-0040-18), as well as a partner in the Sloan Foundation funded project, the Data Curation Network (DCN). Jennifer can be reached at j.moore@wustl.edu.
Dr. Adam Rountrey is a Research Museum Collection Manager at the University of Michigan Museum of Paleontology.  He has been involved with acquisition, analysis, visualization, preservation, and dissemination of 3D specimen data at this institution since 2004.  During this time, Adam developed the photogrammetry workflows and 3D web viewer for the University of Michigan Online Repository of Fossils, and he currently manages the online repository.  He is a co-PI on the IMLS-funded Community Standards for 3D Data Preservation project and is particularly interested in issues related to rights and ownership of 3D data in museum settings. Adam can be reached at arountre@umich.edu.
Hannah Scates Kettler is the Head of the Digital Scholarship & Initiatives at Iowa State and Associate Editor for Caruth Studio, LLC (caruth-studio.co) She leads a team working on wide-range of digital scholarship initiatives. Her research interests include cultural heritage representation in digital libraries, and infrastructure support for 3D virtual heritage collections. Scates Kettler is a co-PI on the IMLS Community Standards for 3D Data Preservation project and the Andrew W. Mellon Collections as Data: Part to Whole project. She is chair of Digital Library Federation Cultural Assessment Interest Group, and Vice-Chair Elect for ACRL's newly formed Digital Scholarship Section as well as one of three inaugural DLF Futures Fellows. Hannah can be reached at hannask@iastate.edu.